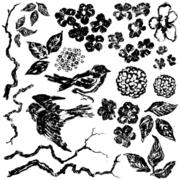 Hooked By Debbie
Iron Orchid Designs Birds Branches Blossoms 12x12 Decor Stamp
Regular price
$25.00
$0.00
Unit price
per
Sheet Dimensions: 12x12 We are so excited about the Birds Branches & Blossoms Decor Stamp
The concept allows you to create beautiful blossom designs, exactly as you want them. You don't have to have mad blossom painting skills, you'll just look like you do.
Maybe on a dresser, maybe on a canvas ....
For anyone who hasn't used the IOD Décor Stamps, they are essentially what they sound like. A stamp. Similar to a stamp that you might've used as a child- but magical. The IOD Décor Stamps have the power to transform an item that you found on the side of the road to an item that you will have to convince your husband you didn't spend your entire monthly budget on. Yeah, that good.
---